---
Customer Reviews
Better home made than bought, but..
When I find something I like but don't like the price tag I will try to make it myself. Some times the project turns out great and other times I get in a hurry. The plans are perfect but one chair is not! It's a minor error where the seat pieces line on the top per directions but one chair has them on the bottom part of the frame. Only I will know this and if anyone was to look without the cushion on they probably wouldn't notice. Thanks for making my life easier on creating great plans.
05/05/2022
Brent E.

United States
05/04/2022
Jamie S.

United States
Excellent plans!
So, kind of funny, but my husband had hernia surgery on Tuesday and the very next day started the side chairs. He found that building these took away the boredom from being off work for three weeks. The plans were so clear and well explained that within nine days he had all 6 pieces made!! The whole set was for my daughter and she was so happy with them. They are a style that can go with MCM decor or country alike. Once these are stained, they should last for many, many years to come.
04/16/2022
Janet v.

Canada
Clear, concise plans
The plans are great, but we were very disappointed when the sofa plans were not included in the "bundle", especially when it's pictured with the rest of the furniture.
04/18/2022
Angela Marie Made
Thanks Janet! The sofa plans are available for free in our free printable library here: https://angelamariemade.com/printable-library-access/
12/06/2021
Adam C.

United States
Excellent chairs!
This was a great starting point to build a quality set of chairs! I say starting point because I did have to adapt the plans to fit different cushions as well as to fit different wood sizes (I could not find any 2x3 wood). But overall, these were easy to follow and fun to put together!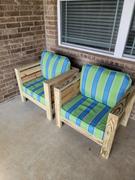 10/23/2021
Anje D.

South Africa
What a great help
This is a great bundle to buy. We made the chair over the weekend with great success. We are planning to make another chair and 2 x 2 seater bench Step by step guide is clear and very easy to follow. Thank you Angela for this great tool. We are novice woodworkers and with your help we now have custom made furniture. Envy of all our friends and family.
09/04/2021
Whitney G.

United States
07/03/2021
Brittany L.

United States
Simple!
Very simple! Easy to follow.