---
Customer Reviews
08/04/2021
nancy b.

Canada
Outdoor chair
Love it. No one can believe I made it.
07/13/2021
Michael L.

United Kingdom
Outdoor Chair
Excellent for a novice like myself I found the plans extremely easy to follow and the bonus for me at least, is that the finished article looked like a chair.
05/07/2021
KENNETH B.

United States
04/29/2021
Grant K.

United States
04/28/2021
Jeffrey B.

United States
04/23/2021
Matt D.

United States
Very simple and
these are pretty great plans. The cushion sizes Angie used are hard to find but she includes alternate cut lists for more standard-sized cushions (and is the main reason I bought the plans). I don't have a nail gun so I haven't put on the side bars but I've made 4 of these chairs and an 8 ft version of the couch (she has separate plans for a shorter version of the couch). Highly recommend for a beginner! P.S. - this was my first time doing pocket hole and using a Kreg Jig. Don't be intimidated by that, a Kreg Jig has become my new favorite tool because of these plans :)
04/22/2021
Kali S.

United States
Loved but a little tweaking
I overall loved the look of the chair, but one area to fix in the instructions... when it came to cutting the pieces, I didn't see where to cut the thinner slats until step 4... it was IN the directions. It would have been nice to have ALL of the cut pieces on the same page. Since I was making two chairs at the same time... I misread the directions and accidentally used the same boards for the WHOLE chair and then had to cut a few more pieces to finish. Other than that, I love the overall look of the chair and it was easy to customize the size to my cushion needs.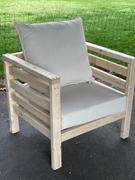 04/14/2021
Donald G.

United States
Built two chairs and a couch.
Very good plans. I should have started with the cushions and built the furniture accordingly. We had trouble finding cushions to fit the design. I couldn't find straight 2 X 3's so I bought 2X6's, cut them in half on my table saw and rounded the sharp edges with a router. To finish, I sanded with with a course grit paper first, then 150 grid. I used wipe on stain (Pecan) from Old Masters then put a coat of Spar Varnish on to protect it. Outdoor furniture last much longer this way and you can clean it easily with any standard cleaner. The result is less rustic but it was the look I wanted. The pieces came out beautiful.