---
Customer Reviews
10/16/2020
Silvia
United States
Easy peasy
Thank you Angela for these amazing plans. Your instructions were so easy to follow. I made the adjustments with your simple adjustment calculator since my cushions weren't the same size as yours. They are very sturdy and I can't wait to put them to use. I definitely sanded before putting it together, that made things even easier. Looking forward to making the side table. Thanks again!
10/08/2020
James M.
United States
Great Plans for the Patio Chair
Angela Marie your plans for the patio chair are great. Very nicely laid out with each step color coded. I am a little bit late in my build due to illness but will have it finished soon. When it is done I will send you some photos. JM
10/07/2020
April .
Canada
Great Build
*Plans for the table (not plasma )
10/07/2020
Delin W.
United States
DIY outside chair
I have not had time to build, but the plans are very easy to read and follow. I would definitely recommend this to friends and family that are into building things of quality.
10/07/2020
April .
Canada
Great Build
Great project. Our local lumber yard only sells finger jointed 2 x 3 so we ripped down our own boards. It was actually perfect because e had a bunch of leftover free cedar 2 x 4 that my dad gave us to build raised garden beds in the back yard. We didn't rip them down to a standard 2 x 3 so modified the plans a bit (aka, less boards between the arm and the seat). The plans were easy to follow and we were able to modify them to make a matching loveseat. Still need to do a final all over sand, stain (I'm going to fill the pocket holes with the kreg wood plugs as I want to use a natural stain using tea first and then a steel wool vinegar mixture. It's my favorite color of stain) and a good matte poly. We also used the plasma for the table but still need to put it together. We have enjoyed this set all summer.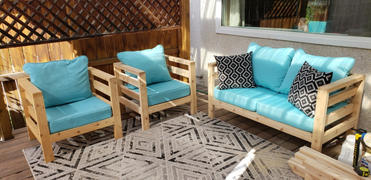 10/07/2020
Lily
United States
Seriously fun project
These chairs are the greatest! My husband and I were looking for patio furniture and were so disappointed by the options available for purchase. Options we wanted were either out of stock or were outrageously expensive. We have never built anything, but I started to wonder if we might be able to, and I stumbled upon these chairs in my research. We decided to tackle the project and I'm so glad we did. We bought cushions that were smaller in size (24x24) and it was so easy to work with Angela's adjusted dimensions and the instructions in general. We had so much fun building out our chairs that we decided to make a full patio set, using her instructions for a matching couch, and a table with the extra wood! We are so in love with our patio set and so proud of the whole project. All-in, we spent just under $300 (most of which was on cushions), and couldn't be happier with the result. Thanks, Angela! We can't wait to try another project!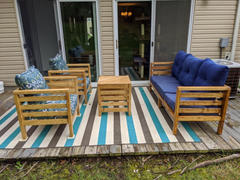 10/07/2020
Daniel T.
Canada
10/07/2020
Cam
United States
Came out PERFECT.
Plans are very easy to use. We bought cushions that were a slightly different size than the cushions in the original plans, but the adjusted dimensions (included in the plans) ended up working perfectly. A little stain and a few days later and we were enjoying these chairs on the patio. They look professionally done. Thank you!